About Our Guests
GoHs:
Tech GoH- Bruce Schneier: Internationally renowned security technologist.
Comics GoH- Randy Milholland: Author and illustrator of the popular webcomic Something Positive
Gaming GoH- Steve Jackson: Steve Jackson Games
Science GoH- Christine Peterson: Foresight Nanotech Institute, inventor of the term "Open Source Software"
Author GoH- Elizabeth Bear: Campbell Award-winning author of Locus-winning Hammered/Scardown/Worldwired SF novel, The Promethean Age fantasy trilogy, numerous short stories.
Author GoH- Charlie Stross: Linux and Perl journalist, programmer, Hugo/Locus-winning Nebula/Campbell finalist author of Accelerando, Merchant Princes time-travel fantasy, Lovecraftian spy thriller The Atrocity Archives, numerous short stories.
Nifty Guests: Nick Sagan, Tom Smith, Luke Ski, John Scalzi, Clif Flynt, Eric S. Raymond, Sarah Zettel, Karl Schroeder, Sarah Monette, Rob Balder
Tech Guest: Bruce Schneier
Bruce Schneier is an internationally renowned security technologist, referred to by The Economist as a "security guru." He is the author of eight books, including the best sellers Beyond Fear: Thinking Sensibly about Security in an Uncertain World, Secrets and Lies, and Applied Cryptography, hundreds of academic articles and papers, and the influential Blowfish and Twofish algorithms.
Schneier's influential newsletter Crypto-Gram, and his blog Schneier on Security, are read by over 150,000 people. He is a frequent guest on television and radio, has testified before Congress, and is a frequent writer and lecturer on issues surrounding security and privacy. He is also a respected food critic and was co-author of the (Best Related Book) Hugo-nominated Minicon 34 Restaurant Guide with his wife, Karen Cooper.
---
Comics Guest: Randy Milholland
Randy K. Milholland is the author and illustrator of the popular webcomic Something Positive and the less well known (but still good) Midnight Macabre and New Gold Dreams.
---
Gaming Guest: Steve Jackson
Steve Jackson is known for the Steve Jackson Games purveyor of such fine games as Illuminati, Munchin, GURPS, and many, many more. He reprises his role as Gaming GoH from Penguicon 2.0. Also, he lets us play with his wonderful Chaos Machine every year.
---
Science Guest: Christine Peterson
Christine Peterson of the Foresight Nanotech Institute, inventor of the term "Open Source Software"
Because Penguicon combines a science fiction convention with a festival of open source software, we don't just read about the future in science fiction, we also attract the people who are creating the future. We're thrilled to announce that Christine Peterson has accepted our invitation to be a 2007 Guest of Honor! She is experienced at giving interesting and understandable lectures to every type of audience of every proficiency level, she is a professional who is not opposed to associating with the words "science fiction", and she's brilliant when it comes to thinking about the future.
Christine Peterson is Founder and Vice President of Public Policy for the Foresight Nanotech Institute, a not-for-profit think tank focusing on emerging technologies such as molecular nanotechnology. She heads conferences and workshops about nanotech and has a chemistry degree from MIT.
She is credited with having suggested adoption of the term "Open Source Software".
She co-authored "Unbounding the Future: the Nanotechnology Revolution" with K. Eric Drexler, the Father of Nanotechnology. Full text online for free at: http://www.foresight.org/UTF/Unbound_LBW/index.html This is highly recommended to everyone; it's a fun read.
With Gayle Pergamit, she also co-wrote "Leaping the Abyss: Putting Group Genius to Work" (full text online), which is pertinent to open-source software development processes. Full text online for free at: http://www.foresight.org/SrAssoc/99Gathering/lta_toc.html
---
Author Guest: Elizabeth Bear
Elizabeth Bear is an up-and coming science fiction and fantasy author whose themes run from nanotechnology to alien interactions to artificial intelligence to the most basic of human relationships. She won the John W. Campbell Award for Best New Writer in 2005 and her single-novel-in-three-books, Hammered / Scardown / Worldwired, won the Locus Award for Best First Novel in 2006. She has also written a fantasy trilogy called The Promethean Age, plus numerous short stories. You can see updates on her progress on various projects (as well as other commentary) on her blog.
---
Author Guest: Charlie Stross
Science fiction by Charlie Stross constantly throws dizzying and head-swimming curveballs, often setting the wierdness in the near future, ripped from the headlines of genetic, nano and A.I. research. But the prolific diversity of his work also includes everything from magical time-travel fantasy, to spy thrillers set amid Lovecraftian horror. He is also a computer programmer who has been a columnist about Linux and Perl for Computer Shopper.
He makes many of his writings available for free on his website. Few believed an SF author would ever succeed in depicting before, during and after a post-human technological Singularity-- but in "Accelerando", Charlie Stross scaled Science Fiction's Mount Everest with a boundless ambition of literary imagination. It is available in its entirety for free on the internet under a Creative Commons license, won the Locus, was nominated for the Campbell and the Hugo, and spawned its own fan-run supplementary guide in Wikipedia's Wikibooks.
The geek code for Charlie Stross is:
GTW/CS/L/MD d-- s:+ a? C++++$ UL++++$ UC++$ US+++$ P++++$ L+ E--- W+++$ N o+ K+++ !w--- O- M++ V- PS+++ PE Y++ PGP+ t--- 5? X-- !R(+++) tv-- b+++ DI- !D G+ e+++ h++/-- r+++ z+++
---
Additional: Nifty Guests
Nick Sagan -- the author of three novels and the writer of several produced Star Trek episodes. Borders and Barnes "&" Noble both selected his first novel, Idlewild, as one of the best science fiction/fantasy titles of the year, while SFX Magazine hailed its sequel, Edenborn, as "one of the best post-apocalyptic novels you will ever read." The third book in the trilogy, Everfree, is now available in stores, with Kirkus Reviews calling it, "A powerful plea for sensible human cooperation delivered via a knockout story." The son of astronomer Carl Sagan, Nick's greeting -- "Hello from the children of planet Earth" -- was placed aboard NASA's Voyager I and Voyager II spacecraft, now the most distant human-made objects in the universe. You can visit Nick online at www.nicksagan.com.
Sarah Zettel was born in California in 1966. Since then, she's lived in ten cities, four states and two countries. Currently, she lives in Michigan with her husband Tim and her cat, Buffy the Vermin Slayer. To date, she's written nine novels, five of which are science fiction and four of which are fantasy. She's also written a whole bunch of short stories that are mostly science fiction with some fantasy and horror thrown in.
Luke Ski -- At Dragon*Con 2004, Dr. Demento declared "the great Luke Ski" to be his radio program's "Most Requested Artist of the 21st Century". Since then, Luke has held onto that title by having a song within the top five of "The Dr. Demento Show's" year-end "Funny 25" countdown of his most requested songs of the year for five years in a row, including two of them at #1 ("Peter Parker" featuring Sudden Death in 2002, and "Stealing Like A Hobbit" in 2003). His song parodies, originals, stand-up and sketches about pop culture pheonema (doot doo, do-do-do!) have make him a favorite performer at science-fiction and fandom conventions all across the midwest and beyond. He's released six albums over the past ten plus years, and a DVD in 2006, titled "The Ego Has Landed", featuring appearances by many fellow artists of "the FuMP", a music video for "Hobbit", and a CD with his most recent Piratey hit, "You Don't Know Jack". For more information on the great Luke Ski please visit the artist's web site at: http://www.lukeski.com
Tom Smith -- The man who describes himself as a "Singer, dreamer, punster, flirt, and generally one of the most manic people in the history of SF Fandom" is coming to Penguicon! And he's going to practice his filking at Warp Speed wiles on all of us. Its rumored that Tom can't spend more than ten minutes in one place without a new song popping out of him - on almost any topic you can imagine. Tom has also been compared (by Larry Niven) to Tom Lehrer, hopefully for the political and humor content of his songwriting, and not for his piano playing!
Tom is also a favorite of the Ohio Valley Filk Fest, being a three time songwriting contest winner, and a TEN time Pegasus Award winner for Excellence in Filking! He also bears some responsibility for the "Best Song Tom Smith Never Wrote" OVFF themed songwriting competition, which should probably be looked into.
Tom has had two songs appear on Dr. Demento's "Funny Five" (the top 5 requested songs of the week), "Domino Death" and "Five Years".
John Scalzi is the author of the science fiction novels Agent To The Stars, Old Man's War and The Ghost Brigades. His "The Whatever" blog gets more than twenty thousand unique visitors a day. One of his blog entries, "Being Poor," was picked up by several newspapers around the country, and another one, "The 10 Least Successful Holiday Specials of All Time," was picked up by NationalLampoon.com. John is also an exceptional conversationalist. John was a panelist in 2005 and a Nifty Guest in 2006.
Clif Flynt -- TCL guru. Check either his personal website or his corporate website for more information.
Eric Raymond -- A former Penguicon Guest of Honor, Eric is most famous as the author of the Cathedral and the Bazaar (the complete text of which is available on his web page), the book that first described the open source development model, convinced Netscape to open their source code, launched the Mozilla web browser project, and introduced Linux to Wall Street in 1998. He's also the editor of The New Hacker's Dictionary (the online version of which is known as the Jargon File), and president of the Open Source Initiative.
He was also maintainer of the Emacs Lisp library a decade ago, author of Sunsite's original software cataloging engine (the basis for the Trove software map used by freshmeat and sourceforge), the guy who put Curses support into Python, co-founder of one of the first community ISP's back in 1993, a contributor to Nethack, and most recently author of the Bogofilter spam fighting software.
He's also been going to science fiction conventions since the 1970's, and has more science fiction books in his basement than most big-city libraries.
Karl Schroeder is the author of Permanence, The Engine Of Recall, New York Times Notable Book Ventus, and the Sci-Fi Essential Book Lady Of Mazes. His novels offer a lot to chew on after you put them down. This is the literature of ideas.
At the same time, Karl Schroeder is concerned with making his hard-science fiction novels accessable and marketable to fans of non-science fiction, such as fantasy and adventure. Don't be deceived by appearances in the first few chapters of, for instance, Ventus-- it's a very clever disguise for a hard science fiction feast. He will probably go a long way to whet more appetites for hard SF who otherwise would not have read it.

Karl also is a technology professional. We look forward to hearing from Karl at Penguicon on such topics as the emergence of the internet as a layer on the physical world, busting the metaphor of the brain as a computer, and technology as legislation.
Rob Balder is a self-described "renaissance geek," who spreads his creative energies across the fields of comics, game design, small press publishing, SF & Fantasy writing, poetry, and Filk. He is the creator of the clip-art comic strip PartiallyClips, which runs online and has appeared in the pages of more than two dozen newspapers and magazines. PartiallyClips was featured in the book collection "Attitude 3: the Subversive New Media Cartoonists," edited by Ted Rall from NBM Publishing. He is the Associate Editor of Nth Degree, a popular fanzine covering genre fiction, gaming, comics, fandom and more. He writes Science Fiction and Fantasy?, including one unpublished novel and many short stories and poems. He writes and sings filk (mostly parody) songs. His first filk CD is called "Rich Fantasy Lives" and features a title track co-written with filk Grandmaster TomSmith. Songs from this CD have been heard on the nationally-syndicated Doctor Demento Show. His second CD, "For Amusement Only" was released recently. Rob also teamed up with Pete Abrams of the webcomic Sluggy Freelance to create "Get Nifty", a stand-alone card game themed around Pete's comic. Get Nifty has just been released for worldwide retail sale, in association with Blood & Cardstock Games.
The Ferrett - and yes, people do call him that - is one of the most-read writers on LiveJournal, blogging daily about sex, relationships, and Godawful puns to an audience of thousands. He is also the Editor-in-Chief and Webmaster of www.starcitygames.com, the most popular independent Magic: the Gathering site, which doles out daily parcels of Magic strategy to an audience of tens of thousands. And when the Ferrett wants to reach an audience of hundreds of thousands of people, he writes up a new Purity Quiz for the Internet - including the Ultimate Sexual Purity Quiz, which half a million people have taken, and the Ultimate Roleplaying Quiz. He has also written several computer books, including LAN PARTY: HOSTING THE ULTIMATE FRAG FEST and WICKED COOL PHP TRICKS (due Summer 2006), and used to be the Computer Book buyer for Waldenbooks, distributing the best in technology writing to over a thousand stores. Oh, yes - and most important of all, he's just started a new Web comic (with artist Veronica Pare) called Home On The Strange, detailing the lives of middle-aged, middle-class nerds and their tragically-single friends. It is vitally important that you visit www.homeonthestrange.com now, or else the world will come to an end. He's not kidding.
Gini Judd -- Widely viewed as the inspiration for "Karla" from the popular webcomic "Home on the Strange" (www.homeonthestrange.com), Gini Judd is a blogger who's somehow managed to attain an audience of over 1,500 people despite working full-time and going to law school at night. She writes about a variety of things at zoethe.livejournal.com, including paganism, politics, Lord of the Rings, and bike-burning.
Worm Quartet is a Rochester, NY-based band that forcibly staples punk and electronica together and throws them into a blender with hysterically twisted lyrics. They have been featured repeatedly on the Dr. Demento show, and had the most requested song of 2004 with the ex-girlfriend rant "Great Idea For A Song" and the 2nd most requested song of 2002 with the anti-drummer anthem "Frank's Not In The Band Anymore." The sole member of Worm Quartet is a 6'4" 300-lb. bemulleted maniac named Shoebox who is under court order to stay away from chickens. More information can be found at www.wormquartet.com.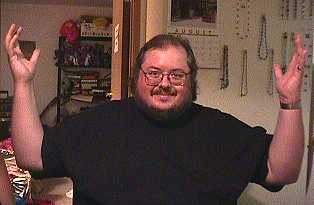 Ron Hale-Evans is the author of O'Reilly's "Mind Performance Hacks". He's omnipresent in so many geek communities on the web that it's amazing we haven't gotten him here before. Magick; inherently bogus religions, including his own; constructed languages; hypertext and interactive fiction; Nomic, the self-modifying metagame; nanotech, becoming transhuman/posthuman, and cryonics; mnemotechnics (the study of how to remember better); recreational math; memetics (the study of infectious ideas); board games, card games, and role-playing games. Ron is training to become a Mentat.